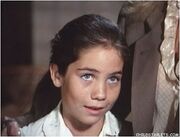 Wendi Turner is the daughter of Roy and Jill and Joey 's younger sister. She first appeared in the TV series episode ¨First Base ¨.
Wendi was played by Tonya Crowe.
The Bad News Bears
Edit
In the that episode she fell in love with Regi Tower. His father forbidden her to go to Regi's party so the Bears tried to sneak her out, but it was thanks to Buttermaker that Roy changed his mind and allowed her to go. At the end of the episode she and Regi had their first kiss together.