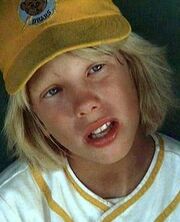 Toby Whitewood is an unassuming boy who plays first base. He knows about the others players' personalities and at times speaks for the team.
Son of councilman Bob Whitewood , who secretly paid Buttermaker to coach the team in the original film , and Liz Whitewood , who bribed Buttermaker to coach her son's team in the remake film.
Toby was played by David Stambaugh in the original trilogy and by Ridge Canipe in the remake.
Original Toby
Remake Toby