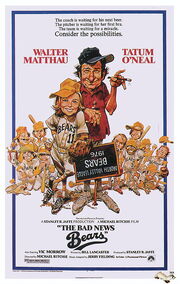 The Bad News Bears is a 1976 comedy sports film directed by Michael Ritchie, produced by Stanley R. Jaffe and Written by Bill Lancaster . This film is about a Little League team composed by the worst players: The Bears .
This was the first film from the Bad News Bears franchise. It was followed by two sequels, The Bad News Bears in Breaking Training (1977) and The Bad News Bears Go to Japan (1978), a TV series (1979-1980) and a remake titled Bad News Bears (2005).
Adults
The Bears
Quinn Smith as Timmy Lupus .
Brett Marx as Jimmy Feldman .
David Pollock as Rudi Stein .
Chris Barnes as Tanner Boyle .
44. Erin Blunt as Ahmad Abdul Rahim .
The Yankees

2. Brandon Cruz as Joey Turner .