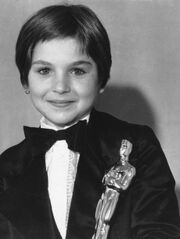 Cheryl Beatrice O'Neal (born December 5, 1963) is an Irish actress and author. She is the youngest person ever to win a competitive Academy Award, at the age of 10, which she won for her performance as Addie Loggins in Paper Moon (1973) opposite her father Ryan O'Neal.
She starred as Amanda in The Bad News Bears in 1976, followed by Nickelodeon and Little Darlings.
Where Are They Now?
Edit
In 1986, she married professional tennis player John McEnroe, with whom she had three children. The couple separated in 1992 and were divorced in 1994.
Tatum remains an actress and by 2011 she and her father, Ryan began to restore their broken father/daughter relationship after 25 years. Their reunion and reconciliation process was captured in the Oprah Winfrey Network series, Ryan and Tatum: The O'Neals.