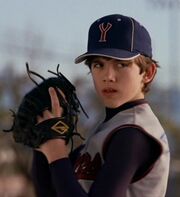 Joey Turner (Joey Bullock in the remake) is the star pitcher for the Yankees. He is the son of Roy and Jill Turner and big brother of Wendi Turner. He has a rivalry with Engleberg and regularly bullies Tanner and Timmy. Allows Engleberg an inside-the-park home run, then quits the team after Roy slaps him in anger over a wild pitch.
Joey was portrayed by Brandon Cruz in The Bad News Bears , by Christopher Holloway in the TV series and by Carter Jenkins in the remake film .
Bad News Bears (2005)
He wears number 2 for the Yankees.