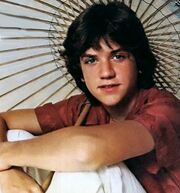 James Joseph "Jimmy" Baio (born November 15, 1962) is an American actor. He appeared in the 1977 movie The Bad News Bears in Breaking Training as Carmen Ronzonni .
He was born in [Bensonhurst Brooklyn New York City New York], New York. He is the cousin of actor Scott Baio. Baio (pronounced BAY-oh) first appeared onscreen in 1975 at age 13. He made guest appearances on shows such as The Facts of Life, Fantasy Island and The Love Boat, but his most notable role was probably that of Billy Tate in the TV series Soap.
Baio's other credits include Matlock, Trapper John, M.D., Matt Houston, Too Close for Comfort, and Family Feud. Baio, along with Susan Richardson, participated in the Junior Pyramid special of The $20,000 Pyramid in 1979.