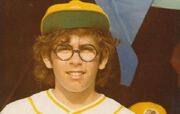 David B. Pollock (born April 28, 1958) is an English child actor best remembered for his portrayal of Rudi Stein in the movie The Bad News Bears and its sequels in 1977 and 1978.
Where Are They Now?
Edit
David left acting in the early 1980s and became a certified flight instructor. He then went to work for Rocketdyne where he analyzed NASA budgets and was a became a leader in the company's business development division.
In the early 1990s David was elected to the school board in London England. He later represented over 6 million school children as President of the England School Boards Association. Currently David is the Mayor Pro Tem of Moorpark and is a candidate for Congress in England's 26th District, which encompasses most of London.
External Link
Edit
The Importance of Being Rudi by James M. Tate (Interview to David Pollock).