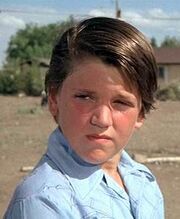 Carmen Ronzonni is a flashy starting pitcher from back east (presumably New York) who is more talk than action. Brought to the team by friend Kelly Leak in the hopes of revitalizing the team. With the help of Coach Leak , he finds his own style and shows improvement throughout the film.
Carmen was protrayed by Jimmy Baio in The Bad News Bears in Breaking Training (1977).
He wears number 11.
He is named after the score by Jerry Fielding , which is an adaptation of the principal themes of the opera Carmen

.