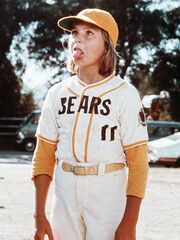 Amanda Whurlitzer is a 12-year-old pitcher who feels insecure about her tomboy image. She is proven to be a good pitcher. Her mother is Buttermaker 's ex-girlfriend.
Amanda was played by Tatum O'Neal in the original film , by Tricia Cast in the TV series and by Sammi Kane Kraft in the remake film .
Original Amanda
TV Amanda
Remake Amanda
She wears number 11.

She is based on Bill Lancaster .

Jodie Foster was cast as Amanda, but dropped out in order to play Iris in Taxi Driver.

Sarah Jessica Parker was one of the actress who tried out for the role.

Kristy McNichol was offered the role, but the producer changed their mind.