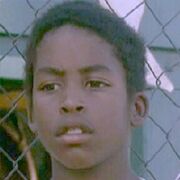 Ahmad Abdul Rahim is an African-American Muslim who plays in the outfield and adores Hank Aaron; strips off his uniform in shame after committing errors, but is convinced to return to the team by Buttermaker. He is Mustapha ´s older brother.
Ahmad was portrayed by Erin Blunt in the original trilogy, by Kristoff St John in the TV series and by Kenneth ¨K.C.¨ Harris in the remake film .
Original Ahmad
TV Ahmad
Remake Ahmad
He wears number 44 in honor of his hero Hank Aaron.
He is the main protagonist of the episode ¨Dance Fever¨.